Automatic Register Controller Sectional Drive Type

COLORCON-DT-3000
DT-3000 is a color controller ("colorcon") for compensator-less register control of sectional gravure printing presses. It can be used easily by anyone by lightly tapping the icons on the monitor.
■Features
Clear display with a TFT color touch monitor (15-inch) and simple operation
Instructions for guidance are available in Japanese, English, and Chinese (display can be switched between two languages).
Individual operation of the A system and B system is possible when used as a split type.
Predictive corrections conducted every time
Optimum correction quantity can be set to suit the conditions of printing paper.
Prevention of miscorrection with fail-safe functions.
Optical fiber /LED type scanning head is mounted as the standard equipment.
Compatible with sectional drive (compensator-less) printing machines
High-speed parallel I/O signal output suited to compensator-less register controllers
Can be used with up to 17 colors.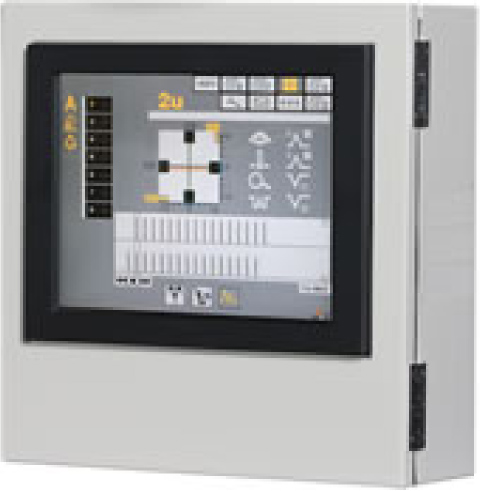 ■Specifications and capacities
Applicable printer
Web-fed gravure rotary press
Correction compensation function
Compensator-less (cylinder phase control) system
Compensator roll correction system (applicable for AC servo motor)
Detection accuracy
Length : ±0.01 mm
Sidelay : ±0.01 mm
Applicable printing speed
10 to 1000m/min (CY1000mm)
Correction speed
Length : Standard 1.0 mm/sec (on web)
Sidelay : Standard 0.4 to 0.6 mm/sec (cylinder travel distance)
Fine adjustment range
±9.99 mm in each direction
Communication function
Serial communication can be used with a PC or PLC
TCP/IP communication can be used.
 
Others
Alarm parameter (from 0.1 to 0.9mm)
Power supply
AC100/200~240 V ±10% 1ø 50/60 Hz 1KVA
Operating environment
Temperature : 0 to 40 ℃ (Touch Monitor 5 to 35 degrees)
Humidity : 25 to 80 % (no condensation)
■Configuration
Main body
Main unit: 1 unit (1 unit in case of a split type)
CH unit: Number of channels (printing units - 1)
Scanning head
Number of channels (printing units - 1)
Optical fiber type :Ff head、Optical fiber cable、junction box
LED type : RB head or HW head , junction cord , junction box
Pulse generator
Sectional drive machine: Number of channels
Line shaft drive system: 1 unit (2 units in case of a split type)
■Standard configuration
Main box
Monitor box
Unit box
Remote panel
Scanning junction box
Pulse generator (PG-IV type)
Scanning head (Ff type)
Optical fiber cord
■Operation panel