Inspection System

OFT™️ Series
The inspection system OFT™ series inspects printing patterns while high-speed printing.
This system images the surface of the printed film by line color camera, and it stores as reference image and actual image, and detects a defect by a pattern matching method.
■Features
Easy operation

Various operations and a condition setup were visually carried out to the screen composition which can be set up simply intelligibly.
It can be operated simply by this and leads also to time shortening to inspection.

Development of specified parts

The inspection stable by development of an exclusive camera and an exclusive inspection circuit was realized.

System protection

The system damage by a sudden down of the power supply of the power failure etc. is prevented by recording the data of the system in the storage device with reliability.

Colorcon made of our company synchronization function

The registration error history of each CH(unit) is displayed.
※Maximum channel : 12 (vertical and horizontal total)
The registration error history and defect history can be managed collectively, it is possible to take over it to the next process smoothly.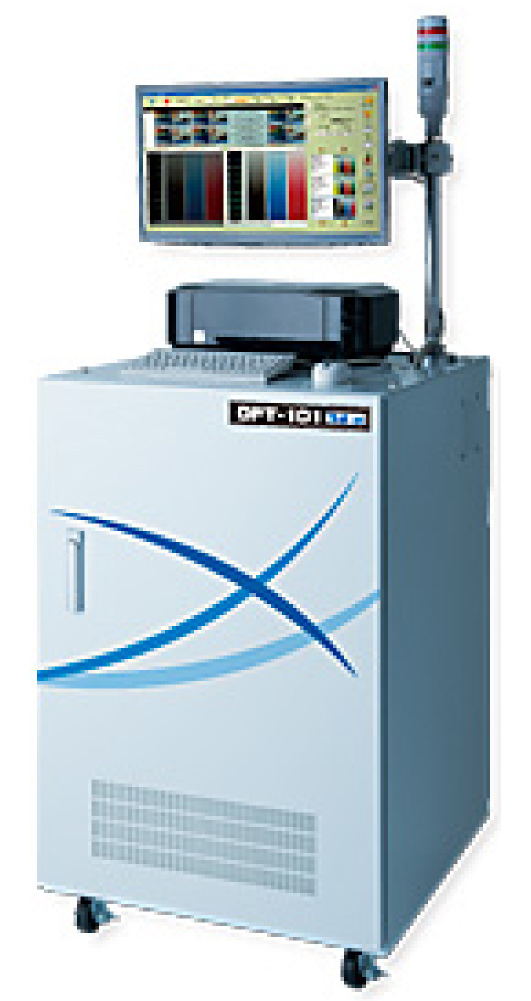 ■Specifications
Camera
Pixels: 4096 [Pixels]
Drive Clock: 40 [MHz]
Max.No.of Camera: 2 [sets]
Light source
Three wavelength Fluorescent Lamp
(High Frequency Light)
Inspection PCB
Color Data: Total 24 [bit]
Inspection Circuit: Three Circuit
(Pattern Matching Method)
Display/Store Device


OS: Windows®XP
Display: 22inch wide LCD screen
Store Data: Removable-Storage
Printer: Color Ink Jet Printer
Counting Device
Encoder: 5000 [Pulse]
Others
Printing Speed: 350 [m/min]

※600[mm] or more of cylinder size. Temperature/Humidity: +10 to 35°C/Less than 90% RH, without dew
Power Source: AC200 to 240 [V] ±10%
50/60 [Hz] 1KVA
■Configuration
Standard configuration
Inspection System Main Body
W650×D685×H1,720
Camera Box
Power Source Box
Reflective Light Unit
Back Light Unit
Touch Roll Encoder
Labeler (Optional)
■Screen