Web High-Resolution Printed Pattern Monitoring Equipment

Model HV-105M III
Visual inspection of the patterns, hues and registration marks during high-speed gravure printing require considerable expertise because the rapid speed.
The Web High-Resolution model HV-105M III combines a high-density CCD color camera, high-precision RGB video memory and strobe light source and displays the printed material in high-speed motion as still images with vivid colors. Experts and novices alike can easily monitor the patterns, hues and registration marks.
■Product features
This is quality management equipment that displays color patterns on the monitor as still images during high-speed printing, to facilitate visual inspection.
Two types of camera-moving equipment (traversers) are available, namely the standard and high-speed variants.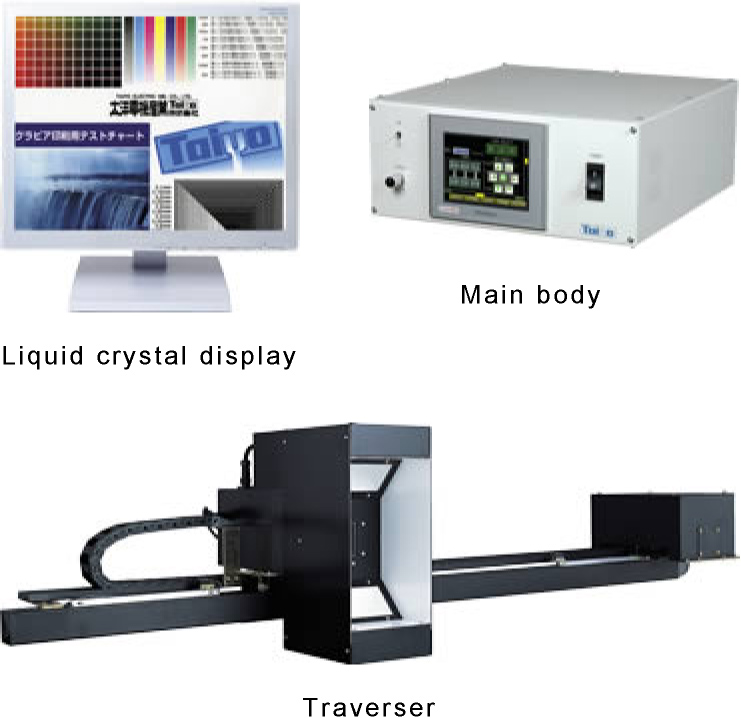 ■Specifications and capacities
Applicable printing machine
gravure rotary press (machinery that can be mechanically synchronized)
Camera
high-performance CCD with 330,000 pixels
Monitor
17-inch color monitor (19-inch monitor optional)
Compatible printing speed
up to 840 m/min
Monitoring range
Vertical: 0 to 360° (input from encoder)
Horizontal: machine width (when traverser is attached)
Greatest view angle: about 130 x 95 mm
Smallest view angle: about 13 x 10 mm
Traverser traveling speed
see Configuration
Orientation of traverser motor box
different specifications are available
Power source
AC100V+/-10% 1φ 50/60 Hz 8 A
Compatible environment
Temperature: +10 to +40°C
Humidity: 90%RH or less (no condensation)
Ambient gas: none
Dust: none
■Configuration
Standard device (HV-105M III)
| | |
| --- | --- |
| Main body of equipment for monitoring printed patterns | one unit |
| Camera box | one unit |
| 17-inch monitor (19-inch monitor optional) | one unit |
| Pulse generator (can be shared when Colorcon is installed) | one unit |
| Standard traverser device (average speed of 30 mm/s) | one unit |
| Detection panel | one unit |
High-speed device (HV-105M III-HS)
| | |
| --- | --- |
| Main body of equipment for monitoring printed patterns | one unit |
| Camera box | one unit |
| 17-inch monitor (19-inch monitor optional) | one unit |
| Pulse generator (can be shared when Colorcon is installed) | one unit |
| High-speed traverser device (average speed of 1000 mm/s) | one unit |
| Relay box | one unit |
| Detection panel | one unit |
■FuExplanation of functions