Web Hi-Vision System Model

SP-009
Visual inspection (pattern, color, tone, pint) Under high-speed printing has a too quick speed, such as gravure printing, take the serious degree of skill to it.
Web Hi-Vision SP-009 can supervise a pattern, a color tone, pint, etc., easily from an expert to a beginner.
High-density CCD color camera, heigh precision RGB video memory, stroboscope light source, etc., are put together, and this is displayed on a monitor by using as a clear color still image film.
■Product features
Clear image by high precision camera
Compact and light weight (6[kg]) camera box
Easy setting both automatic and manual synchronize
Complying with traverse Standard Type
x 10 Zoom Lens (Half-tone Dot can be monitored)
Touch Panel operation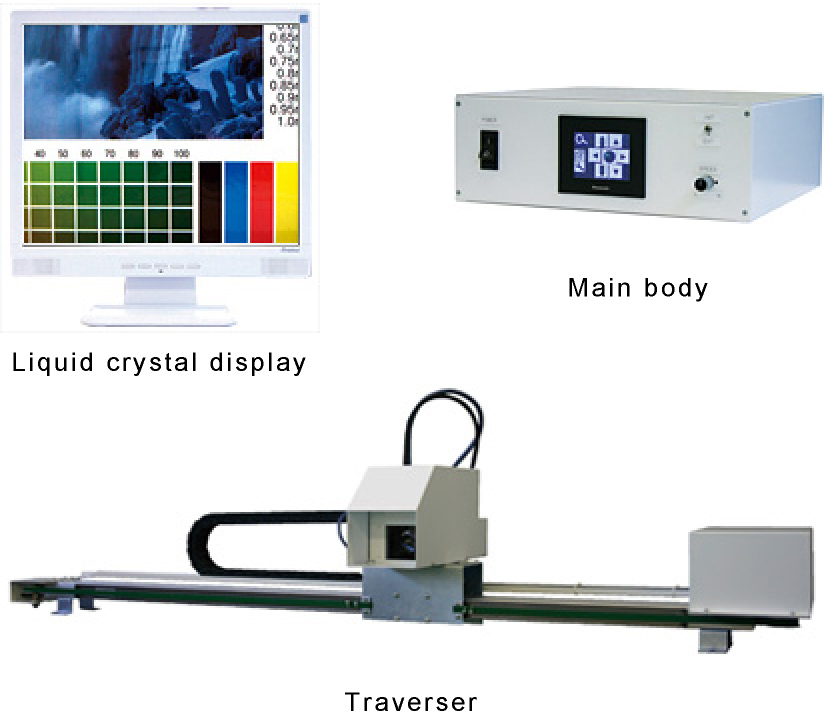 ■Specifications and capacities
Applicable printing machine
Gravure printing machine (Machine that can take Machine Synchronization)
Camera
High Quality Color CCD 330 thousand pixels
Monitor
17 inch LCD Monitor
Web speed
MAX.1,400rpm
Watch range
Length: 0 to 360 degrees (Rotary encoder input)
Side: Machine with (traverser installation)
Max.View: about 100 x 75 mm
Min.View: about 10 x 7.5 mm
Traverser speed
Refer to configuration
Power source
AC100V+/-10% 1φ 50/60 Hz 4 A
 
Application Environment
Temperature: +10 to +40°C
Humidity: Less than 90%, no dew
Atmosphere gas : Non
Powdered dust : Non
■Configuration
| | |
| --- | --- |
| Main body | one unit |
| Camera box | one unit |
| 17 inch LCD Monitor | one unit |
| Standard tepee traverser (Average speed 30 mm/s) | one unit |
| Detection Panel | one unit |
| Pulse generatior(Option) | one unit |
■FuExplanation of functions