Touch Panel Automatic Register Controller

SK-2090
■Features
Standard equipped both length and Side-lay registration output.
LED type scanning head achieve longer life and the angle changeable bracket perform reliable sensing especially for aluminum or paper printing job.
Control Unit have independent controller and simple communication system contribute both less wirings and stable control against noise.
User friendly operation by touch panel with USB port for mouse operation.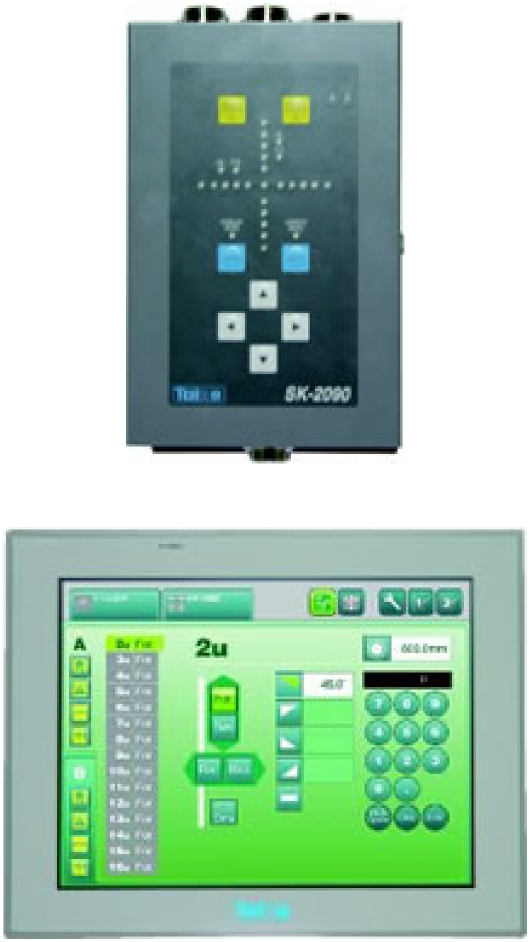 ■Specifications and Performance
Correction method
Length: Compensator roll correction method
Side-lay: Cylinder correction method
Detection accuracy
Length: ±0.01mm
Side-lay: ±0.02mm
Printing speed
10 to 500m/min Max. (Cylinder size: 600mm)
Fine adjustment range
±9.99mm in each direction
Register Alarm range
0.1 to 9.9mm variable
Power supply
AC200V to 240V ±10% 1φ50/60Hz 0.5kW
Environment Condition
Temp. 0 to 40°C
Humid. 20 to 80% (Without dew condensation)
■Configuration
Main panel
1unit
Control unit
number of channels ( printing units -1) (Max.15ch)
Scanning head
(number of control unit) pieces
Pulse generator
1 piece
Option
Length direction preset device
Split system
■Precaution
installation condition
Pulse generator should be synchronized with printing cylinder rotation.
Scanning head are installed before the dryers of the printing units on 25mm square rod.
In case of printing on transparent films, reflecting plate is required.
Wiring Between Units
The power line and the signal line separate completely.
The signal line should be the shielded cable.
Length correction speed
1mm/sec on the web.
Side-lay correction speed
0.5 mm/sec for printing cylinder movement.
Register Motor
We recommend the use of single phase synchronous motors. Power supply for register motors must be required for both direct drive and over current circuit.